Easy to work with
Fixed Price Quote
Quote And Book online
Pay by CASH or BANK TRANSFER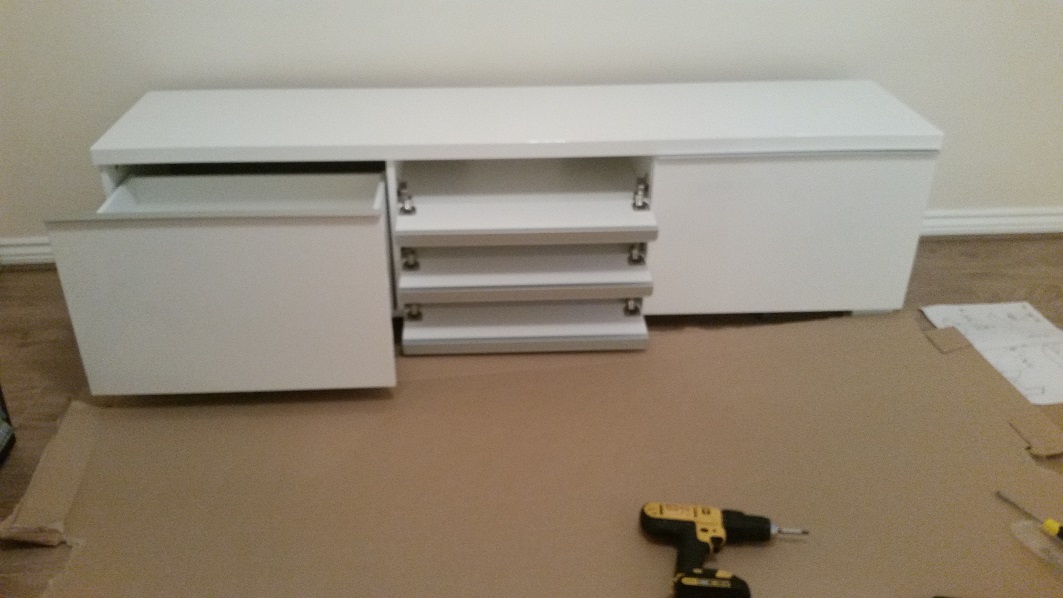 How We Work
Tell us exactly what you need assembling
(see What We Need to Know Below)
We email you or display a quote after you have submitted the form
Book online (or tell us your preferred dates)
We build your furniture to the highest standard
You pay us by: Cash or Bank Transfer
You leave great feedback and testimonials
Find out about our QUALITY and CONSISTENCY or a more detailed overview of how we work below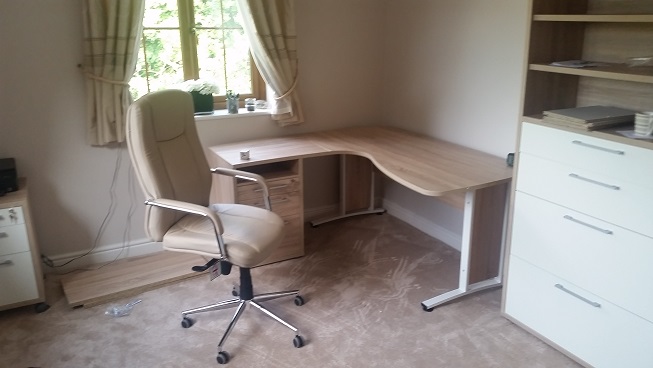 This video above shows you how to get an automatic quote and book online. Additional videos below show where to find the part nos required.
Get A Quote
What our customers say: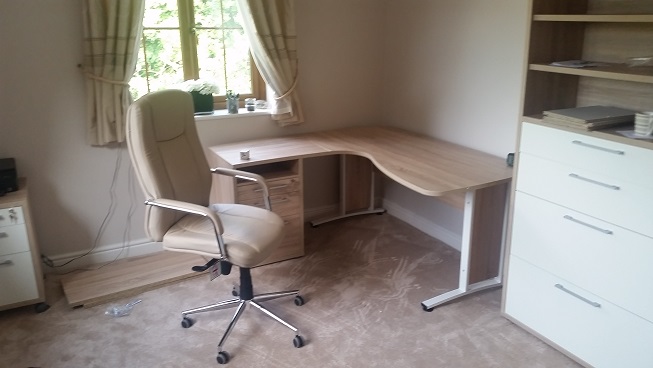 What we need to know
Generally:
Please tell us the supplier, the full product name and a part code if you can
OR
Copy and paste links of each product online.
Specifically:
For these companies our quote engine will autodetect your items and prepare a draft quote for you if you enter the supplier name and the part number for each item you want building.
---
Argos
---
Ikea
---
John Lewis
---
Next
---
Very.co.uk
---
WayFair
Sample Enquiry
" Hello there,

I have two childrens Ikea loft beds with desk underneath which need to be taken down. As I still have the instruction books (somewhere!) I intend to donate them to charity if I can. The rooms that these are in are empty and the house is not currently occupied which may help!

I can take photos of them in situ if you need but heres a link to them on the Ikea website

https:www.ikea.com/gb/en/p/smastad-loft-bed-white-white-with-desk-with-4-drawers-s09392094/

Also, I have two Ikea wardrobes which I would like taken down to go into storage in my garage. I cant find the exact one I bought on their website, but I can take photos if you like and this one gives you an idea.

https:www.ikea.com/gb/en/p/pax-wardrobe-black-brown-mehamn-black-brown-stained-ash-effect-s09305761/

Let me know your thoughts,
"
What we quoted
" Thank you for your enquiry, these items will take the following time to assemble:



140 mins - Ikea Disassembly Stuva Loft Bed

120 mins - Ikea IKEA Pax wardrobes to be disassembled 1x2m



Total Units: 260 mins

TOTAL UNIT COST = £ 163.80 - ( 260 units x £ 0.63 per unit - Price Bracket A)

Additonal information follows regarding it being a fixed price, how we calculated the costs, how to book etc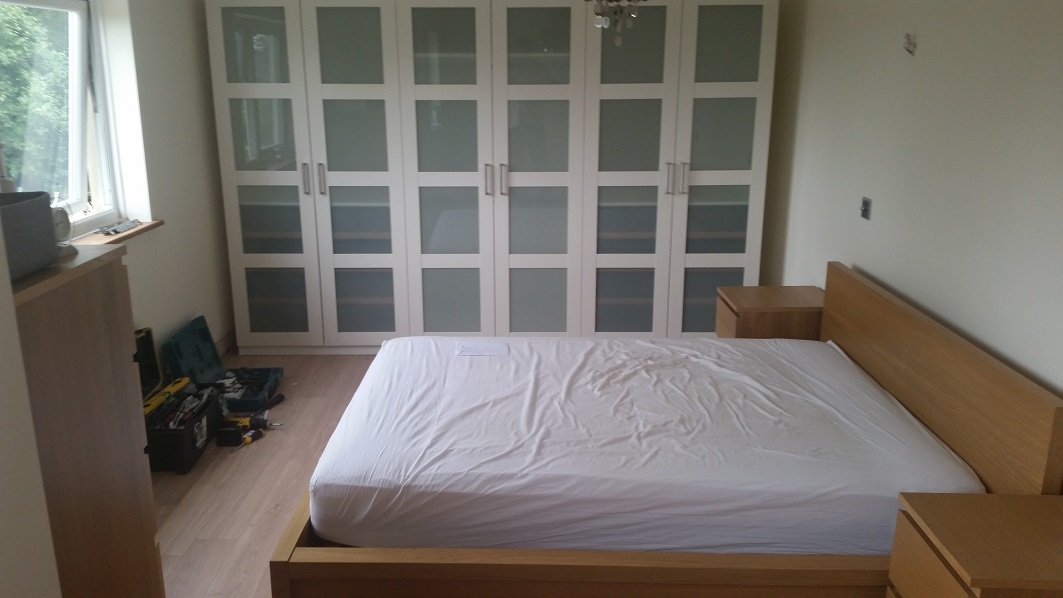 ---
Our Standards
We have done everything we can to make our service the best quality it can be.
Training and Development
Clear and Transparent Pricing - the price you see is the price you pay
No Hidden Extras - we do not add on lots of hidden charges
Attaching to the Wall - clearly explained
The Job Cycle - so each job is done to the same standard
Formal Complaints Procedure - should you have any problems
12 Month Guarantee
Testimonials & Feedback
Trained and Experienced
All of our assemblers have been trained to the standards of Flatpack.org.uk and have passed the experience tests to show they are as familiar as anyone can be with the products they are assembling.
Find out more about FlatPack.org.uk by clicking on our badge below
Experienced
Established since 2004, over 17 years assembling furniture.
Skilled
All our assemblers are trained to the highest standards: how components work - relevant British Standards - specialist assembly techniques and working practices.
Knowledgeable
From where to place Nursery Furniture, to key facts on children's loft and bunk beds, to the 12 test for stability of furniture.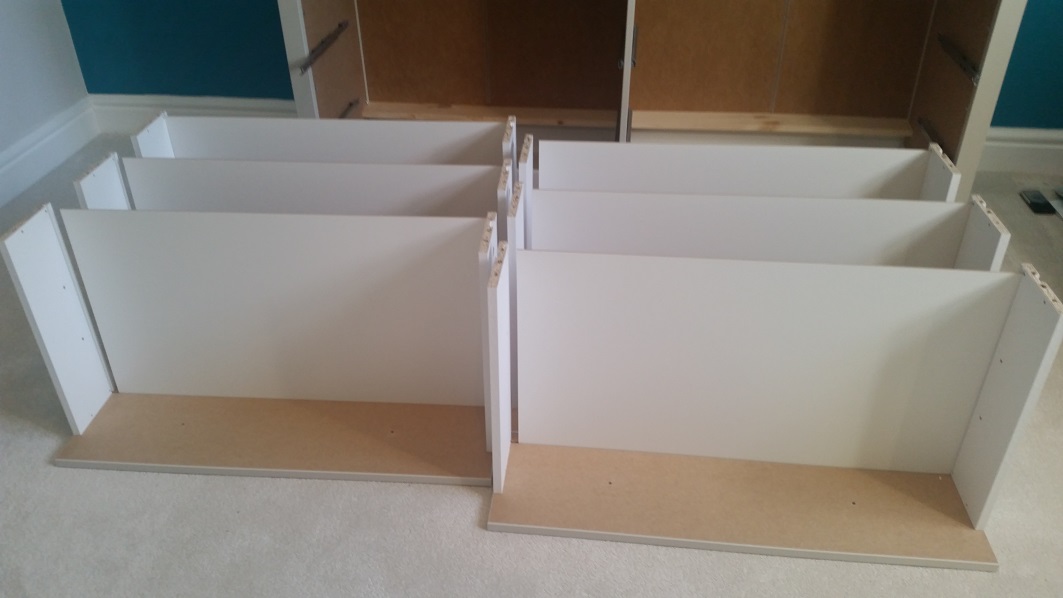 ---
Standard Methods of Work
From modular wardrobes to bedroom layouts we have methods of work to ensure the best outcome.
i.e
- If you do things in the right order, the job is a lot easier to get right.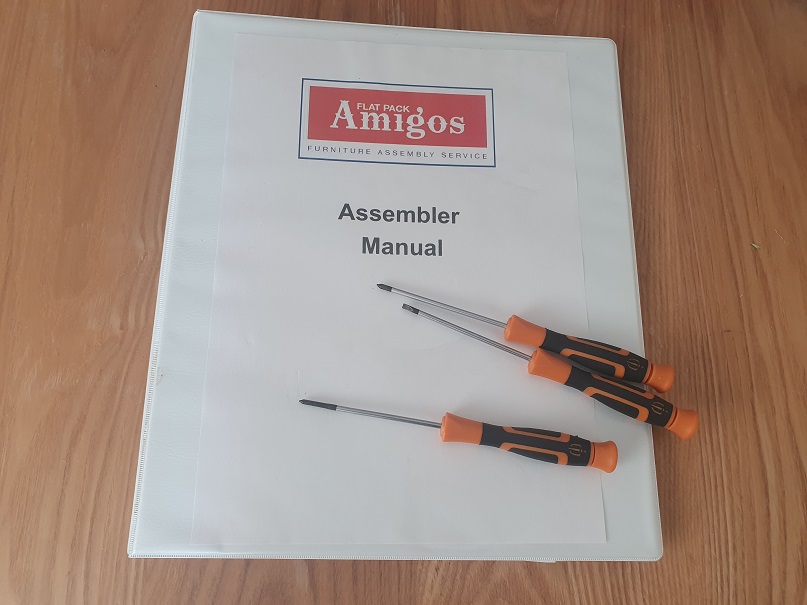 Consistency
Each quote, job and follow up is done in the same way so we can be sure we deliver the highest level of service consistently.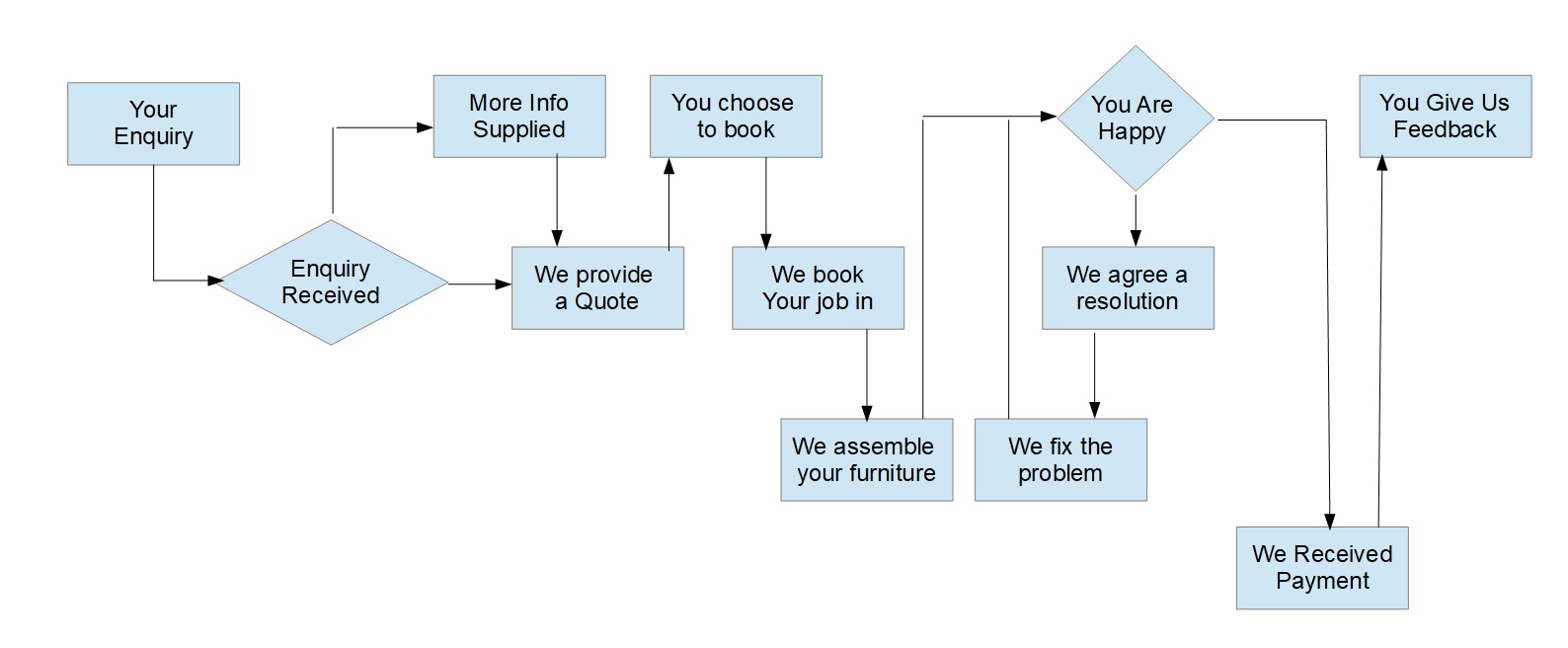 ---
Get a Quote

Use our online quote engine to get a quote for the furniture you want assembling.

Book an Appointment

Use our online automated booking process, or.
We will then ask you to give us 3 dates when you want us to come.
We will confirm the appointment we can do within 1 hr (during normal opening hours).

We do your Job

We will arrive within your appointment start time (1 hour window ie 2-3pm).
We will assemble your furniture.

After the Job

Our Assembler will close the job down.
We send you payment details (*) and a link to close the job, provide feedback etc.
We send you a receipt and our guarantee.
Feedback
---
Customer Satisfaction
We send our customer satisfaction survey to everyone who contacts us with an enquiry as part of our commitment to continual improvement (a requirement of BS 5750 / ISO 9000).
If you didn't use us we use the feedback given internally to understand our market, and where necessary modify our business model.
We publish a summary of the results of everyone who uses us, so potential customers can see the great service we offer
Just some of the things we have helped people with in Banbury:
Just some of the things we have helped people with in Banbury:
flat pack service near banbury
flat pack builders banbury
flat pack assenbly banbury
furniture assemblers near banbury
Some of the other things we have helped people with :
flat pack sofas and chairs
flat pack made to measure wardrobes uk
flat pack assembly in stanley
flat pack furniture assembler perth uk
ikea furniture assembly service stirling scotland
ikea furniture assembly leeds
ikea assembly leicester
assembly instructions burton 3 doors wardrobe
make flat pack furniture newton le willows
ABCDE G Ikea
Providing a furniture assembly service throughout the UK since 2005. We operate in the following towns in Oxfordshire: Abingdon, Bampton, Banbury, Bicester, Burford, Carterton, Chinnor, Chipping-Norton, Didcot, Faringdon, Henley-On-Thames, Kidlington, Oxford, Thame, Wallingford, Wantage, Watlington, Witney and Woodstock
We assemble furniture from all suppliers including: Adorable Tots, Amazon, Andre Victoire, Argos, Asda, Aspace, B and Q, Barker and Stonehouse, Bedstore, Bensons, Bensons for Beds, Corona, Dunelm Mill, E-Bay, Furniture 123, Habitat, Harmony, Home Base, Homebase, Hulsta, Ikea, Izziwotnot, John Lewis, JTF, Julian Bowen, Kiddiecare, Kidspace, Littlewoods, Living It Up, Luxury Express, Made.com, Mamas and Papas, Mothercare, Mrs Flatpack, Nabru, Natural Bed Company, Next, NOT LISTED, Pax, Pine Solutions, Plum, Rauch, Steens, Stompa, Tesco, TP Activity, Very and Worldstores.